When you think of luxury estates and properties on the Big Island, and the people who own these prestigious homes, celebrities may automatically come to mind. While it's true there are film and sports celebrities, along with tech moguls, there are a lot of "regular" people who aren't famous, but who do prefer a more relaxed, content way of living.
As Hawaii luxury real estate brokers, we can tell you that many whose names are unrecognizable, or who've never made a "who's who" list, have decided to make the Big Island their home, or at least a second home for those times when they just want to get away from it all. Those who purchase luxury homes or estates in
Kohanaiki
or
Waikoloa Resort
, or in an upscale neighborhood such as the
Ranch at Puakea
or
Hamakua
, aren't looking for ordinary. What they are looking for are unobstructed, spectacular views of the ocean or mountains, quality neighborhoods where they can find seclusion and privacy, lots of bedrooms, and all of the "smart" technologies we've all come to depend on today.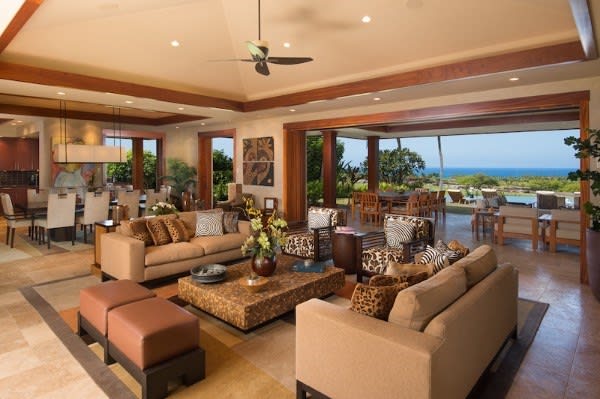 72-131 Kuikawa PL Kailua Kona, HI 96740
Those who live the good life on the Big Island love one thing you don't find in many other locations around the world – the sense of being outdoors all the time, of being part of nature. Many luxury homes incorporate indoor and outdoor spaces so that they seem as one. From lots of large windows and pocket doors for amazing views to outdoor kitchens and showers, so many features bring the outdoors in – or vice versa.
The Chinese are heavy investors in property on the Big Island, as are those from Western states in the U.S., including California. Ultimately, buyers come from all over the world, and only a small percentage are celebrities or others who are well-known.
Those who buy million-dollar homes on Hawaii Island are often families who simply desire recreational opportunities, views, landscapes, and surroundings that continue to amaze; and a peaceful, relaxed way of living. A true paradise.
If you're in the market for a primary residence, second or "vacation" home, or want to invest in magnificent real estate opportunities that only appreciate over time,
contact
the Big Island luxury property brokers at Mauna Kea Realty.