Big Island Grinds(food)!

Many people have one thing in mind when vacation time rolls around – the food. The diet goes out the window, and your mouth starts watering before you leave the driveway. It's no different if you visit the Big Island! Exploring the food is a great way to learn and understand more about the culture. Our Hawaii luxury real estate brokers want to share a few of the restaurants you don't want to miss when visiting our little piece of paradise.


Beach Tree Bar and Lounge

Located literally steps from the sand, Beach Tree Bar and Lounge offers casual dining including small bites and awesome drinks, located at the Four Seasons Hualalai. If you love Italian fare, seafood and good old American food, this is one not to miss.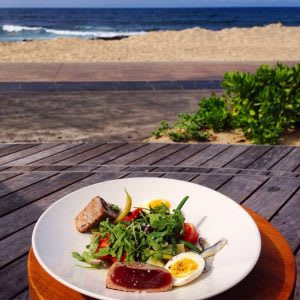 Huggo's On the Rocks

Huggo's offers up Pupu appetizers and Poke Bar selections along with "exotic tropical potions" like Rock's Jungle Juice and the Hawaiian Rainbow.

The Rocks Poke Bowl, Onolicious Pupu Platter and Famous Ramos' Poke Nachos are a few of the mouth-watering options you'll find on the menu. Located on the Kona oceanfront, this is another casual spot where you'll experience some amazing sunset views!

Pizza and Beer Your Style?
How about a teriyaki chicken sandwich, fish tacos or Kbcilla Pookela, a Kona quesadilla made with kalua pork, cheddar and mozzarella cheese, jalapenos, green chilies and topped with green onions, diced tomatoes and homemade salsa? You can find a little of everything at Kona Brewing Company, Brown's Beach House is where you'll find dining that's a little more upscale, located north of Kona on the Kohala Coast at the Fairmont Orchid. Menu selections include Beef Filet Mignon, Kona Lobster, King Crab Crusted Kampachi, Prime Rib Eye and more. Great appetizers and desserts as well! Pricey, but worth it.
More Grinds!

Other restaurants you'll want to check out include 'Ulu Ocean Grill, 808 Grindz Cafe, and Roy's in Waikoloa. Plenty of others, but these are some of our favorites.

​​​​​​​Should you decide you need a "home away from home" or vacation rental while you're here, our Big Island real estate professionals are here to help!