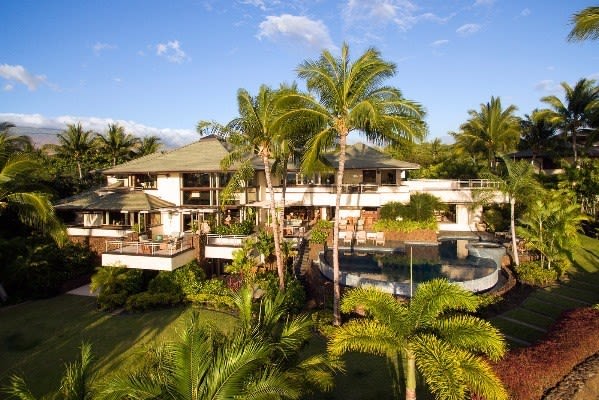 62-3692 KIEKIENA PL
Kamuela, HI 96743
If you're considering a move to the Big Island, you may be curious whether there are any unique benefits of living in a luxury home on this beautiful island. Even those who aren't familiar with Hawaii know of the beautiful ocean views and mild year-round temperatures, but what else can you expect?
Naturally, you envision sparkling gourmet kitchens and spa-quality bathrooms, maybe even a swimming pool on the property. Here's what else you can look forward to!
Seamless integration of indoor/outdoor spaces. Wouldn't it be wonderful if you could enjoy the spectacular outdoors even when inside? Many luxury homes on the Big Island offer features such as floor-to-ceiling glass that retracts into walls, making it possible to open up your kitchen/dining area or even your living room to the great outdoors. It doesn't stop there; many homes also feature outdoor dining areas and full kitchens independently plumbed and outfitted with cooktops, so you can entertain to your heart's desire while enjoying the sweetly scented breeze only Hawaii has to offer.
Resort living. The Big Island boasts many resort properties, including Kukio, Kohanaiki, the Mauna Kea Resort, and Hualalai Resort to name a few. If you're one of the many whose luxury home is located on resort property, you'll truly feel as though you're on "permanent vacation!" Imagine all of the world-class golfing, fine dining, tennis, and indulgent spas you could ever want, not to mention a packed schedule of activities each week!
Homes that incorporate Hawaii's exquisite architecture and culture into the design. From spacious lanais (another word for the terrace) to pocket doors, extraordinary courtyards, and lush landscaping, these homes are not your ordinary homes and combine traditional Hawaiian architectural elements with Asian influences.
Oceanfront living. Of course, we couldn't leave this off, it's the main attraction for many luxury homeowners! Whether you desire a secluded oceanfront setting, one that's perfect for those who enjoy surfing and water activities, or an oceanfront property with a resort beach just a stone's throw away, there is no shortage of oceanfront homes to choose from on the Big Island.
If your dream is to experience a life well-lived in a relaxing, truly breath-taking environment, nothing compares to luxury real estate on the Big Island. To learn more about our unique homes,
contact
Mauna Kea Realty today.