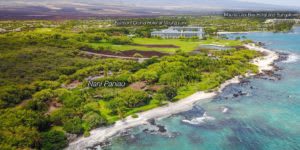 69-2014 NANI PANIAU PL Kamuela, HI 96743
Perhaps you're planning a vacation on the Big Island to relax, or check out some of the amazing luxury properties available. Maybe you live on the island and are ready to put work and stress behind you for a few days with a 'staycation.' Either way, you'll find the Kohala Coast is the ideal way to get away from it all!
North Kohala is where you can experience scenic lookouts, ranch homes, beautiful pastures, and even see Maui on a clear day as you drive along 270, also referred to as Akoni Pule Highway. If you're the adventurous type, you may be interested in taking a three-hour kayak tour that takes you off the beaten path through Kohala's fresh water system and the old flumes. All you need to do is visit at the junction of 270 and Hawi Road.

In the same area you'll find a community-based HUB, the Kohala Village Inn & HUB. While it's a great place to stay and offers a restaurant, there's a lot more to it, at this inn located in Hawi. Relax at one of the quaint coffee shops, explore the galleries, experience a live concert or take in one of the eco-tours. Plenty to do, and lots of great spots to just hang out and chill for a while.

The Kohala Coast's southern end is where you need to head if you're in the mood for a bit of pampering or just want to relax and unwind. While there are plenty of opportunities to enjoy the beaches, you'll also find resorts that are packed with great restaurants, unique shops, and spas, where you can indulge your senses and feel the tension literally melt away.

While there are plenty of beaches and resorts in South Kohala, one of the best for those who enjoy entertainment, a happy hour on the ocean, golfing, bars, Jacuzzis, and activities for the entire family is the , where you'll find and just a stone's throw away. Whether you're looking to interact with dolphins or to enjoy an adult beverage near the water at , luxury is what you'll find in this area of the Kohala Coast.

From the , an ideal stop for history buffs, to and a couple of areas hikers will love ( or ), there's definitely something for everyone. Check out the Mauna Lani area for more shops and golfing opportunities, or soak up some Native Hawaiian history and take in the freshwater fishponds at the .

These suggestions barely touch the surface of all there is to enjoy along the Kohala Coast. Lots to enjoy along this magnificent stretch!

If you're in the market for a haven where you can escape the resort communities, hustle and bustle, and enjoy seclusion and privacy in one of the most desirable small gated communities along the Kohala Coast, our Big Island luxury real estate professionals invite you to take a look at our Kohala by the Sea properties. Truly paradise!