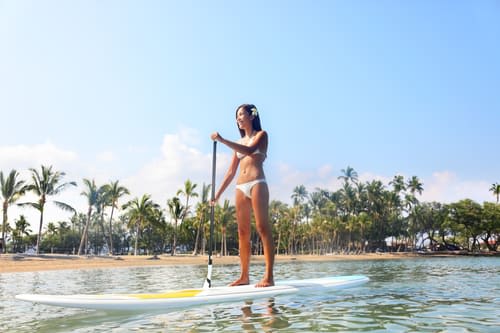 You may be surprised to learn that on the Big Island, not all beaches are sandy beaches – but there are many, and each offers its own atmosphere and diverse water activities. If you're considering a move to the Big Island, you'll want to know more about the beaches on Hawaii Island. Even if you're simply vacationing, you'll find the following helpful!

69 Beach (Waialea Beach) has bathrooms, a shower and is perfect for those who enjoy floating around on a boogie board. Plenty of scuba diving and snorkeling opportunities, the perfect place to spend a day exploring.

​​​​​​​Located between Na'alehu and Pahala, Punalu'u Black Sand Beach is both unusual and absolutely gorgeous. You're likely to see a few green or hawksbill turtles relaxing on the black sand. From petroglyphs to views of the Sea Mountain Resort golf course, camping and a hiking trail, this is a beach you definitely don't want to miss!

Have you ever seen emerald green sand? It's almost unbelievable, and beautiful as you can imagine. Papakolea Beach, known as Green Sand Beach, is one of only four beaches in the entire world to have this intriguing sand. Accessible only on foot, you'll want to take plenty of water and snacks along if you plan to make a day of hiking the trails, snorkeling or swimming.

Magic Sands on Ali'i Drive in Kona is the most popular sandy beach in Kona and perfect for the entire family considering there is a lifeguard on duty, a volleyball net for those who want to play, and all of the water activities you could want including swimming, surfing, snorkeling or body boarding.

Approximately 2 1/2 miles south of Kawaihae you'll find Hapuna Beach, a white sand beach that is truly spectacular. About a half a mile long, Hapuna Beach offers ample parking, lifeguard, picnic tables and more. If you get bogged down after boogie boarding or swimming, not to worry – lots of other activities to enjoy including hiking, volley ball, tossing a Frisbee or even football as the beach is the perfect size for these sports.

Keauhou Bay, Waipi'o Valley, Makalawena and South Point are other beaches you'll want to check out if you love nothing better than the beach. While there are plenty of other reasons to visit or live in Hawaii including the relaxed lifestyle, rich culture, fine dining, beautiful drives and gorgeous landscapes, we know the beaches are one of the biggest reasons people love Hawaii.

If you're thinking about investing in a Big Island luxury estate, home or other property give our real estate professionals a call today.