While not every home or property on the Big Island offers an ocean view, many do. In fact, some of the most luxurious homes are located on the coast, something hard to imagine for those who wake up to the congestion of traffic, buildings, and concrete each morning. Can you imagine waking up every morning to the spectacular view of the ocean? Not only is it peaceful and amazing, an ocean view has several other benefits our Big Island real estate professionals are aware of that we'd like to share.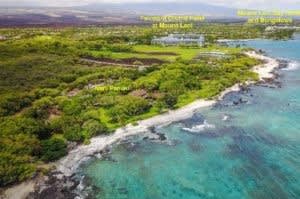 69-2014 NANI PANIAU PL Kamuela, HI 96743
Whether you choose a property along the Kohala Coast or in , or one of the prestigious resorts, there's something about living near the ocean that's calming and healing for the spirit. Think about it for just a moment; when people in most states in the U.S. head out for vacation, where do they want to go? Somewhere where there's water; whether to the beach, ocean, or lake. There's just something soothing and relaxing about being near water that you don't find in other environments.

Other than the therapeutic qualities of being near the water, there are health benefits as well. Of course, your mental well-being is improved, simply because the views, sounds, and surroundings of the ocean are so calming and stress-relieving. Other than that, you have access to the best exercise in the world, from simply swimming to water skiing, scuba diving, snorkeling, or just running along the beach in the early morning or evening hours. So relaxing – and healthy!

You don't have to actually be in the water to enjoy all of its healing properties. Having a luxury home on the Big Island that offers amazing ocean views is refreshing and exhilarating, no matter how many times you experience those views from the sliding glass doors, windows, or lanai of your home. Look out the dining room doors or kitchen window, and enjoy those aquatic hues of blue that people all around the world are drawn to. Peace and harmony within your mind, body, and soul – that's what it's all about.

What happens when you're near water or in it? According to marine biologist, Wallace J. Nichols, it creates the "blue mind" inside all of us, a "mildly meditative state characterized by calm, peacefulness, unity, and a sense of general happiness and satisfaction with life at the moment." Doesn't that sound wonderful?

At Mauna Kea Realty we know that the decision to purchase luxury properties on the Big Island is about much more than the home itself. It's about an enhanced living experience, tranquility, peace, and a true sense of happiness that can't be matched in many other regions of the U.S. Live your best, most fulfilled life! We'll help you realize the dream whether you're looking for a home to live in full or part-time, an investment property or rental, or a vacation home.