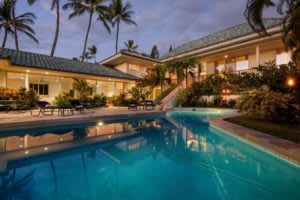 3244 S Kihei Rd Kihei, HI 96753
Whether you're interested in buying a luxury estate or property in Kohala Ranch, the Ranch at Puakea, or in the Waikoloa or Mauna Kea Resort, there's much more to consider than cost and the features or amenities of the home. Even if the home offers spectacular views of the ocean or close proximity to the golf course, the quality of the community or neighborhood matters. Why? There are several reasons.

​​​​​​​You enjoy peace of mind. Peace of mind is essential when you choose where to live for you and your family. Is the neighborhood secure, and can you rest assured unwelcome guests won't be a problem?
There's much to be said for gated communities and resorts where you can live your life without looking over your shoulder, and you feel at ease, regardless of what activities you or your children may be involved in.

​​​​​​​​​​​​​​Shouldn't where you live enhance your lifestyle? Perhaps you enjoy living in close proximity to your neighbors or prefer a more secluded atmosphere. Maybe an area that's a bit more rustic and offers a country appeal is more to your liking. Whatever it is, you want to choose a community or neighborhood that suits your lifestyle and lends to those things you enjoy most, whether snorkeling, surfing, playing a round of golf, entertaining friends, or just marveling at the nature that surrounds.

​​​​​​​Putting an emphasis on family. Certainly many luxury homes offer seclusion and exclusivity, but living in a neighborhood where you have good neighbors, and other children, may be important for those who have families of their own. Socialization is an important aspect of life, so you should keep in mind the importance of play opportunities and new friendship possibilities for both you and your children. Mixing with other families is healthy – and even when you live in the most exclusive resort or neighborhood, you don't want to separate your family and children from new friends and life experiences.

A quality neighborhood gives you a sense of pride. When you're the owner of an immaculately landscaped luxury Big Island home in Kukio or any upscale neighborhood, you naturally tend to take care of your property and make upkeep/maintenance top priority. You enjoy making your home even more beautiful, rather than looking at upkeep or upgrades as a chore – it's a pride in homeownership like you've never experienced before.

There's far more to consider than how magnificent a home is, or dollar signs, when you're investing in something that is a huge and important part of your life. The quality of the community is critical to your family's quality of life, and the experiences you enjoy over the years. If you are looking to invest in a luxury estate or property that lives up to your expectations in every sense, contact our Big Island real estate professionals at Mauna Kea Realty, today.