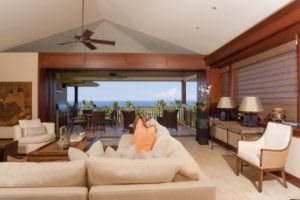 72-2907 HAINOA ST #6 Kailua Kona, HI
If you're planning on putting your Big Island luxury home on the market, there are some things you can do to make it more appealing to buyers – and therefore enjoy a quicker sale. As Big Island luxury real estate professionals, we have a few ideas that will help you stage your home like a pro, without going to a lot of expense or hassle.

​​​​​​​A new coat of paint can work wonders. While it isn't expensive, painting is the easiest way to give a home a fresh new look. Stick with
neutral colors such as white or cream shades, or a very pale apricot, to add a warm glow.
​​​​​​​
Is the tile in the bathroom outdated? If so, it can be a huge problem, as kitchens and bathrooms are the most important rooms in buyers' minds. Instead of replacing the tile, you can bring it in to the modern-day using paint. Use a high-adhesion primer to coat the tiles first, then brush on a ceramic epoxy covering. A simple way to achieve a bathroom that's trendy and up-to-date.

Kitchen appliances outdated? Simply replacing the appliances will give your entire kitchen a modern, updated appeal buyers love – and you'll easily recoup the expense, adding more value to your home.

Transforming older furnishings is simple. Throws, a few throw pillows in complementary patterns and colors, and a great area rug can give your living room personality and appeal, and detract attention away from older furniture.

Clear away the clutter, and everything else that relates to your family or personality. Buyers want to be able to picture their own families living in the home – tough to do when family pictures and artwork are covering the walls and the closets are bursting with your wardrobe. From small appliances on kitchen counters to pictures, the stack of mail on the table, even your jewelry on the bedroom dresser or vanity table – clear it all away. What you want is clean lines without clutter – and without all the "stuff" that clearly identifies this is YOUR family's home.

Staging like a pro is easy, and doesn't require spending tens of thousands of dollars on remodeling or a professional to "design" your home for selling. If you're planning to put your Big Island home on the market, put some of these ideas to work and you'll sell your home faster. At Mauna Kea Realty, our luxury real estate professionals know a thing or two about selling high-end properties. Let us give you a hand today!
​​​​​​​

Big Island Luxury Homes, Big Island Luxury Real Estate, Big Island Real Estate, Hawaii Luxury Real Estate