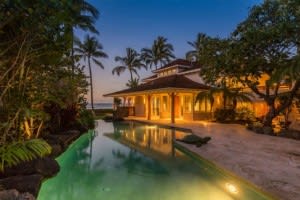 69-1712 Puako Beach Dr, Kamuela, HI 96743
Luxury homes on the Big Island of Hawaii are in high demand, not only for their beauty and elegance, but all of the activities homeowners enjoy without traveling to another destination. If you're looking for an enhanced living experience and spectacular ocean views, the Puako-Waialea Bay area is unique from any other location in the state. What can you expect in this area.

Located about halfway between the Mauna Kea Resort and Mauna Lani Resort? Plenty!

For those who love the water, there is no shortage of fun and exciting activities to choose from. Perhaps you love to take a relaxing swim, kayak, or participate in a little scuba diving or snorkeling. If surfing is your thing, you'll find there are plenty of great waves you can catch, particularly in the afternoon in winter months.

One of the most popular beaches in the area is , or Beach 69 as it's commonly known among residents. The views are amazing, whether you enjoy a picnic lunch or are passionate about photography. While there aren't a lot of amenities, restrooms, showers, and recycling cans are available for those who simply want to enjoy the beauty of the beach, take a swim, or relax under the kiawe trees while enjoying a good book.

Puako is a wonderful place to call home, whether you're in the market for an older beach style cottage, modern single family home, or condo. There are also a few vacant land parcels available for those who desire to build a luxury home to their own specifications.

Unless you live on the Big Island, it is hard to imagine the beauty of the beaches and landscape, and the relaxed atmosphere that lends to an enhanced living experience. For all of your luxury real estate needs, count on Mauna Kea Realty.