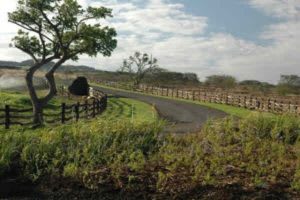 56-168 Pualani Rd Lot 2-A Hawi, HI 96719
When you're looking to escape the hustle and bustle of everyday life, Puakea Bay Ranch offers a tranquil, beautiful setting where you'll enjoy sweeping views of the ocean, plenty of room to roam without bumping into a neighbor, and the protection and privacy you can only enjoy in a gated community. Whether you enjoy walking the trails, riding horses, or simply relaxing on the lanai while taking in the beautiful coastline views and sunset, there's truly nowhere else that compares to Puakea Bay Ranch, comprised of 400 acres of paradise.

Whale watching is another favorite pastime enjoyed by residents during the season, however if you enjoy fine dining, shopping, and other activities you'll find it's not far away – just about three miles from Hawi. Underground utilities cause no disruption to the landscape. An ideal location if you desire to farm, or just enjoy quiet, spacious surroundings.

Our Big Island luxury real estate professionals currently have one parcel located in Puakea Bay Ranch:

56-168 Pualani Road 2-A offers wide open spaces, green pastures, wooded areas, and wonderful views of the ocean, mountain, and sunset. Private, paved roads in a gated community mean you'll never be disturbed.

If serenity, privacy, peaceful surroundings and the most gorgeous views you could imagine are what you're looking for, consider Puakea Bay Ranch, ideal for building a family retreat or the luxury home you've always dreamed of in beautiful Hawaii. Raise a few head of cattle or horses, or just enjoy the country atmosphere you don't usually envision when you think of Hawaii.
​​​​​​​