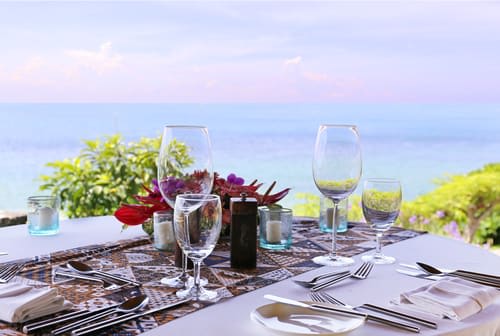 You may be shopping for a second (vacation) home on the Big Island, or just enjoying a relaxed and much-needed vacation.

​​​​​​​As luxury real estate agents who have been around Hawaii's largest island for years, we're highly familiar with all there is to enjoy on this magnificent paradise, including the great food!

​​​​​​​We all love to indulge our taste buds, and in Hawaii food is part of our rich culture.
Regardless of the reason you're here, we want to share some of our favorite Kona restaurants.
​​​​​​​Naalehu is where you'll find the Hana Hou Restaurant, a great place when you want to grab some take-out or enjoy an indulgent dessert. From breakfast options to Santa Fe and Cheese Quesadillas, Loco Moco, Fish n' Chips, burgers, grilled sandwiches and freshly made salads, you'll find plenty of comfort food at Hana Hou Restaurant, the southernmost restaurant in the U.S.

Chubby's at the Avalux Cafe is located at the KBX Family Entertainment Center at Lanihau Center in Kailua-Kona and is where you'll find delectable dishes including Kalua pork quesadillas, homemade Lau lau, sandwiches, salads, all-day breakfast and American and local cuisine. Chubby's offers a kids' menu and daily specials; be sure to check it out!

Umeke's Fishmarket Bar and Grill in Kailua-Kona offers up locally sourced fish that's super fresh and of the best quality, spectacular dining options including pan fried Opah and Kauai Shrimp with Chimichurri butter, sizzling NY steak with pan seared scallops, Aina salad, Umeke's Sashimi, Keiki burgers and lots more. The food – and the atmosphere – are tantalizing. With 5-star reviews and a chef who's won awards and has a "Boat to Bowl" vision, this is one restaurant you definitely don't want to miss.

Our list wouldn't be complete without another Kailua-Kona favorite, Kona Brewing Company. While it all began with craft beer nearly a quarter of a century ago, the Kona Brewing Company has become one of the most popular restaurants on the Big Island's West side. Enjoy hand-tossed pizza, soups and salads, sandwiches and entrees including the Porterhouse Dip, Kailua Town Club or Bigwave Shrimp Melt, Leeward Lasagna, Cubano and other specialties along with one of the company's award-winning brews!

There's no shortage of amazing restaurants to delight your palate when visiting the island, be sure to check out one or two of these while you're here.

If you are considering a vacation property so your family can enjoy the relaxed, laid-back way of life in Hawaii for part of the year, trust our Big Island luxury real estate brokers to help you find the ideal home, estate, or condo for your needs and budget. We help you live the dream!