Imagine living in a nearly new custom luxury home located within the gated Kauna'oa at Mauna Kea community, where you'll enjoy privacy on a 1.24 acre property that offers not only magnificent views of the Kohala Mountains, but also ocean views and spectacular views of the Mauna Kea Golf Course. It just doesn't get any better than this! Kauna'oa offers residential opportunities like no other, as residents have easy access not only to the Mauna Kea Resort, but also the exceptional amenities offered by the Kauna'oa Country Club as well.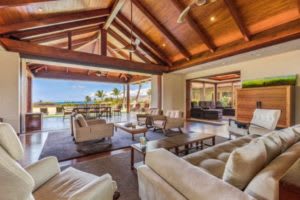 Truly a tropical paradise, every moment spent in this extraordinary community is one to cherish, whether you choose to live in this gorgeous luxury home or use it as a getaway when you need to de-stress and unwind.

While it's hard to imagine, unless you've seen it with your own eyes, this Kohala Coast residential enclave offers vast panoramas of both sea and sky, and is almost unearthly in terms of its natural beauty; it's a place where it seems time doesn't exist and life moves at a slower pace in almost magical surroundings. Rejuvenating – soothing for the mind, body, and spirit.

With 4,319 square feet comprised of six bedrooms, seven baths, a home theater room complete with 90″ television and a gourmet kitchen, this home offers an open floor plan for those who want the best of both indoor and outdoor living. Did we mention the outdoor garden shower included in the master bedroom suite? This is a truly magnificent home for those with discriminating taste and design preferences.

Experience this breathtaking Kauna'oa Mauna Kea Resort luxury home by taking the – you'll see why we're so excited to have this property available for our luxury property investors! For all of your Big Island luxury real estate needs, trust Mauna Kea Realty to deliver beyond your dreams.