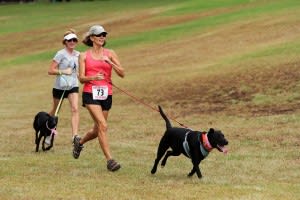 IMAGE SOURCE: Hawai'i Preparatory Academy
On September 20, the "," an activity established six years ago in honor or Bieni Kohler Johnson, daughter of our own Mauna Kea Realty's agent Chacha Kohler, was held in Kamuela, Hawaii on the cross country course of the Upper School Campus of .

​​​​​​​Ulrike Katharina Bieni Kohler Johnson passed after battling breast cancer in 2009, and today $1000 scholarships are given to talented,
deserving young women who possess the qualities remembered most in Bieni, who was a mother, daughter, aunt, and great friend to countless individuals.

​​​​​​​​​​​​​​All of the net proceeds from the Bieni 5k Fun Run and Dog Walk went towards scholarships designed to support female student athletes attending HPA, or the Hawaii Preparatory Academy. This is where Bieni Kohler attended middle and high school. While the event is awesome, even more awesome this year is that fact that Bieni's son, Ryan Johnson, won this year's event! While Chacha is a proud grandmother, no doubt her daughter would be so proud of her son's amazing effort.

The Bieni 5k Fun Run and Dog Walk is a fun-filled event that takes place every September, with the highest donor being recognized with a two-night stay at the Mauna Kea Beach Hotel in a room with an amazing ocean view! Making the event even more fun is the fact that participants can bring a furry friend along, as long as he/she is friendly towards people and other animals. Even the pets that participate in the fun run win, as 'dog swag' was included in goodie bags. What's more fun than running with man's best friend, and part of the family?

Needless to say, Ryan Johnson was on cloud nine after winning the fun run on behalf of his beloved mother. Bieni Kohler Johnson was a role model we will certainly never forget. Her legacy continues on through the Bieni 5k Fun Run and Dog Walk, an annual event created to not only keep her memory alive, but to support the scholarship fund for four lucky individuals each year as well. Chacha Kohler is dedicated to not only her family and the memory of her daughter, but clients in search of the ideal luxury home or property in Hawaii as well. Join us at the event in 2016, and take pride in the fact that you're helping support a wonderful cause.