Location, location, location; it's a term we've heard for decades when it comes to buying a home, whether you're in the real estate industry or not. Because we're in the luxury real estate industry and have spectacular properties all over the Big Island of Hawaii, we found a Forbes article explaining the other "things" a buyer should obsess over when in the market for a luxury home. We thought you may find this interesting, so we're sharing.
According to Forbes, high-end buyers would be wise to focus their money, energy, and time on such things as:
High ceilings – the higher, the better. In fact, the article claims cubic footage is more important than square footage, although it was referring more to an apartment environment. However, we agree ceiling height can make a difference in how the size and spaciousness of a room are perceived.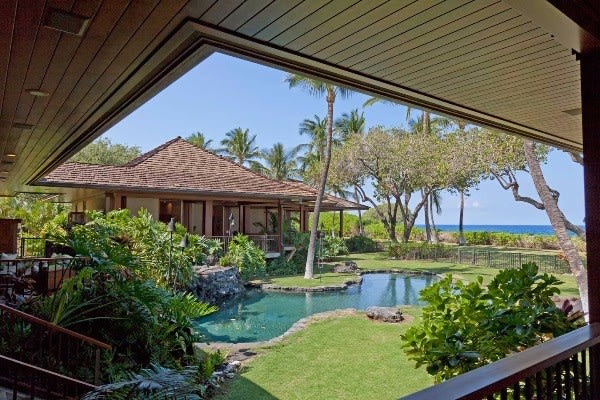 69-2014 Nani Paniau Place Kamuela, HI 96743
Architectural uniqueness. Quality architecture does retain value, and it's important to consider how the architecture will be viewed a decade or two in the future. High-grade materials, an artistic component, and unique or unusual details often help sell a home.
A layout that's practical. A luxurious home should have areas designed for privacy, and those for entertaining. The layout should make sense; after all, the last thing you want is a guest having to go through a private area such as the master bedroom to get to the bathroom. You want a beautiful home that's comfortable, but has a clear separation between private and social areas.
Lots of light and amazing views. Not many people want to feel "cooped up" when inside their homes, and having a great view when outdoors is even more important. Big windows, skylights, a glass wall – there are lots of ways to let natural light flow through a home. From inside or out, an amazing view of the mountains, forest, or ocean is soothing to the senses, good for the soul. Of course, we don't have to worry about unobstructed, beautiful views with most of our luxury properties, considering many are oceanfront homes! Few horizons in the world offer the magnificence of those in Hawaii. What luxury means to one person may be completely different from what it means to another. It truly is a personal thing, whether your idea of luxury is an expansive home complete with a gym and media room, or a smaller home with lots of unique design accents.