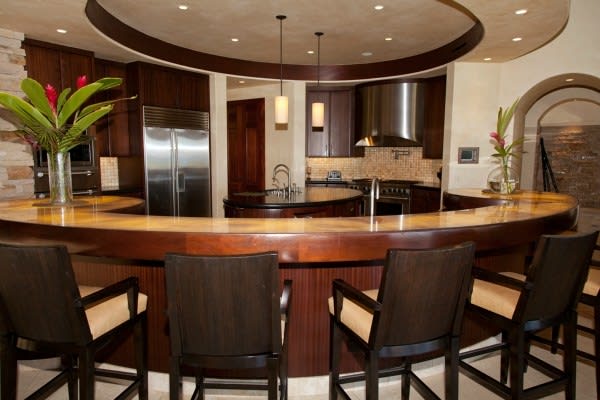 68-1029 PAUOA WY Kamuela, Hawaii 96743
Regardless of where you purchase your luxury home, most homeowners today know the importance of a wonderful kitchen. More and more, people are spending quality time in the kitchen/dining area, rather than the living or family room. A kitchen is where you share meals, relax at the end of the day with family, entertain guests, play games or help the kids with homework, and generally just feel the most comfortable. In essence, it's the heart of the home! Whether you have a luxury home on the Big Island of Hawaii, or in any other upscale location in the U.S., we have a few ideas on how you can create a best-in-class kitchen.
Are you planning to remodel or install a new kitchen in your luxury home? There are countless decisions to make. Is a galley kitchen, one that is U-shaped, or an L-shaped kitchen best for your needs, and easily integrated into the design of your home? For most homeowners, galley kitchens are a less common choice, as they're designed primarily for efficiency and are basically a narrow passage between two walls, not what luxury homeowners would consider particularly luxurious.
U-shaped kitchens are well-suited for luxury homes, as most have islands and feature three walls offering ample room for storage, cooking, and food preparation. If lots of room and an island offering extra storage and ease of food preparation are important, this is a popular design that's not only functional but visually appealing.
L-shaped kitchens are found in many high-end homes and provide considerable storage space with a cooking/cleaning area that's angled. In addition, many L-shaped kitchens are large enough to feature an island, whether for food preparation and storage or extra space for dining or enjoying drinks with the company.
Regardless of whether you choose a galley, U-shaped, or L-shaped kitchen for your luxury home, most lean toward contemporary, modern, or traditional styles. Of course, those who are financially comfortable can create the kitchen of your dreams if you enjoy a rustic look or surroundings that bring back memories of an old farmhouse.
What are the most popular materials in today's luxury kitchens? Mosaic tile, granite countertops, and kitchen cabinets crafted of ebony, cherry, or other expensive woods are most desired by homeowners. Intricately carved faces, high-end hardware, or even unadorned sleek styles for those who prefer contemporary style are popular.
When it comes to a best-in-class kitchen for your luxury home, the most important factor is really what you prefer, and how your kitchen flows with the rest of your home.
In the market for luxury homes in Hawaii? At Mauna Kea Realty, we provide a wide array of luxurious homes you'll love to call your own, regardless of the price range. Give us a
call
today!