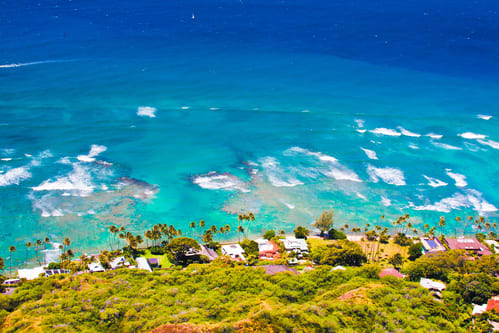 Whether you're looking to buy luxury homes in Hawaii for yourself and your family, or want to invest in an upscale rental property, nothing in the world compares to living near the beautiful waters surrounding Hawaii. One important point we want to make is that beachfront real estate and oceanfront property does not necessarily mean the same thing. An oceanfront property is typically located along the coastline and provides amazing views, however, you may not have access to a sandy beach. An example of this are properties located along a cliff. Sometimes the terms are used interchangeably, so you will need to ask your real estate agent about properties you are interested in if your dream is to have easy access to a sandy beach any time you like.
Although the Big Island is the youngest of the islands in Hawaii, there are plenty of beach opportunities. Some of the most popular beaches include
Hapuna Beach
,
Mauna Kea Beach
,
Kua Bay
, and
Kahalu'u Beach Park
. While millions of visitors flock to some of these beaches, most people who can afford a multi-million dollar luxury home prefer living on the waterfront, whether an oceanfront or beach property.
Prefer a home in the Kohala Waterfront development? This oceanfront property (some of which sits at about 200-foot elevation) offers pristine waters ideal for snorkeling or watching the dolphins and whales. Unhindered ocean views in luxury homes tucked away for privacy from resort communities are what you will find in Kohala Waterfront.
Puako-Waialea is where you want to be if you prefer a small neighborhood with spectacular homes located close to (or even right on) the ocean. Whether a charming beach-style cottage, new family home, or condo is what you're in the market for, Puako-Waialea offers easy beach access and the best diving/snorkeling to be found along the Kona-Kohala Coast.
Living on the beach or having an oceanfront property for most people is a clear indication of status and wealth. The nice thing about the Big Island and the various beach and oceanfront properties is the diversity; no matter what you're looking for, your Hawaii luxury real estate agent can help you locate your perfect property!