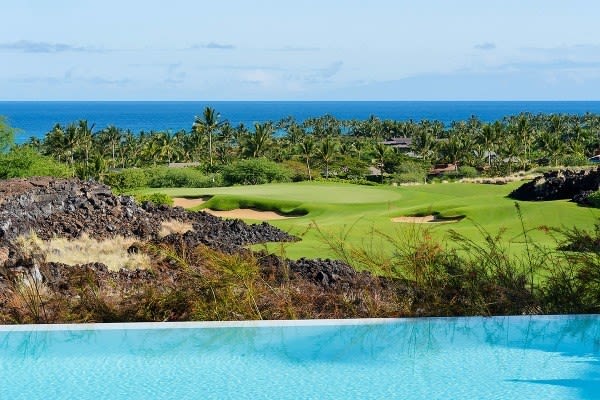 72-2930 Uluweuweu Akau Place KAILUA-KONA, HI 96740
Whether you're looking to buy a primary residence or vacation home, or you're looking to invest in luxury Big Island real estate, Kukio is the Big Island's most exclusive community. If you desire a gated community and privacy away from tourists and day-trippers, Kukio is a resort neighborhood offering a completely different type of "paradise" than you find in other communities in Hawaii!
Carved into the lava of the Kona coast with Hualalai to the north, Kukio is where those who desire a truly lavish lifestyle flock to for the best in golf opportunities, fine dining, fitness facilities, kayaking, sailing, paddleboarding, and of course the breathtaking views of the ocean. Kukio is a private oceanfront club and residential community that stays away from commercialization – in fact, you won't find a hotel at Kukio, where you can also enjoy gazing at the island of Maui on the horizon.
One example of the lavish luxury properties at Kukio includes the nearly 9,400 sq. ft. beauty located at 72-160 Holo Kula Pl 87, Kailua-Kona; a magnificent home situated on 1.3 immaculately landscaped acres. In a word, this home is a masterpiece!
Another gorgeous home offering 5 bedrooms and 5 baths within 6,760 sq. ft. is one created by architect Bing Hu that sits on the island's dramatic Kona Coast, located at 72-116 Poepoe Pl 15b-6, Kailua-Kona. Those looking for a secluded, intimate setting with a built-in spa and an in-ground pool will fall head-over-heels for this spectacular home.
If you're in the market for a somewhat smaller home that's no less incredible than an expansive mansion, our 3.257 sq. ft. home featuring a sunken wet bar, 3 bedrooms, and 3 baths along with incredible mountain and ocean views is located at 72-3054 Maniniowali Dr 8, Kailua-Kona.
These are just a few examples of the magnificent luxury properties offered at Kukio by Mauna Kea Realty. If you desire the finer things in life and dream of natural, tropical surroundings offering peace and tranquility, give us a
call today
.