People flock to the Big Island to relax on the beach and let their worries melt away while vacationing. There's a peaceful solitude and relaxing atmosphere you just don't find anywhere else, which is why many who are affluent choose to buy a luxury estate or upscale home in one of the many resorts or high-end neighborhoods. Why shouldn't life be a beach every day? It can be, whether you enjoy lounging around your own pool or at one of the many fabulous beaches in Hawaii.
As Big Island luxury real estate professionals, we understand the need to get away from it all and live life on your own terms. Imagine enjoying an evening with family or friends on the lanai while you barbecue a fabulous meal surrounded by unimaginable views of the beach, ocean, and mountains. Can you hear the waves and wonderful sounds of nature? It's perhaps the closest thing to Heaven here on our crowded, noisy earth, where constant hustle and bustle seems to be the norm.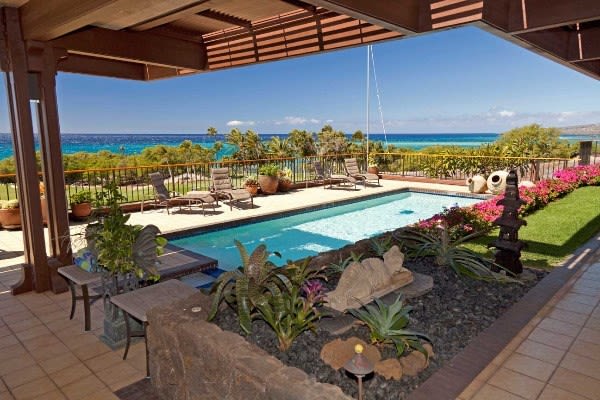 62-130 Imaka PL 29 Kamuela, HI 96743
Lots of luxury homes in neighborhoods, including
Kohala Ranch
,
Waialea Bay
, and
Ranch at Puakea
, offer private surroundings without sacrificing gorgeous, calming views. If you love golf, an active lifestyle, and the perks of country club living, you'll be right at home at the
Mauna Kea
or
Mauna Lani Resort
. Of course, the gorgeous sands and beaches that surround the Big Island are the biggest draw, and there are plenty of them – perhaps a few you've never even heard of including
Keei Beach
where you'll find great fishing, surfing, and snorkeling without throngs of tourists.
Another "secret" beach on the Big Island is
Honomalino Bay
, located about 30 miles south of Kailua-Kona. This expansive beach is fairly secluded, found after a brief jaunt through the Hawaiian jungle and making your way through a charming fishing village. Wonderful for those who love the beach, but not necessarily hundreds of people.
Fish, snorkel, surf, play golf or tennis, relax and unwind with a relaxing massage, or just enjoy the serenity of your own pool or any one of our magnificent beaches. Yes, life can be a beach every day when you experience it on the island of Hawaii!
If you're looking for a luxury property on the Big Island, the real estate brokers at
Mauna Kea Realty
can help you find the estate, home, or parcel of land meant for you. We like to think we deliver dreams; let us help make yours come true.