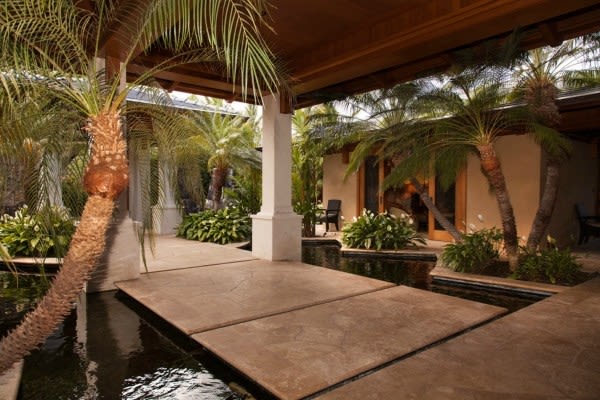 Is your idea of a luxury home one that offers amazing coastal views, the relaxing sounds of the ocean, and the most beautiful sunsets to bring each day to an end? At Mauna Kea Realty, we offer fine homes that are truly luxurious and unique in every way, bringing an enhanced living experience to those who live in surroundings that cater to your every need. One example is a property located at 72-160 Holo Kula Pl in Kailua Kona, a fine home offering privacy in a 1.3 acre setting with landscaping you won't believe.
To be truthful, Hawaii is a state providing a setting and natural beauty that is enough to romance anyone. Considering the pristine sands, amazing sunrises and sunsets, active volcanoes, majestic mountains, and ocean views, it's no wonder that so many homebuyers across the U.S. are in search of that elusive "dream" home, the one they will be excited to wake up in every day of their lives. When you have the financial resources to enhance your life and live where you truly want to live, why settle for anything less? Given the countless cultural opportunities, golfing, fine dining, shopping, water, and beach activities, and all of the amenities that make Oahu and the state of Hawaii one of the most popular destinations in the world, it's no wonder so many flocks to our beautiful state to live a life that's anything but ordinary.
When choosing a Kailua Kona luxury home in which to not only live but experience life, it's important that your home offers all of the conveniences and amenities you could dream of. A wine cooler, double ovens, floors beautifully designed in hardwood, stone, and ceramic tile, swimming pool overlooking Maui and the mesmerizing Pacific Ocean, architecture that integrates seamlessly between the indoors and out, gym, nearby golf, and beach club – it's all here. When in search of luxury homes that truly make living life an exciting and enjoyable experience, count on Mauna Kea Realty to deliver beyond your expectations.