Nearly anyone would agree that living on the Big Island is a wonderful experience. That said, there are certain areas on Hawaii Island's west side that offer a lifestyle you never dreamed possible, a place where you can truly engage all of your senses and look forward with great anticipation to each new day. One such area is Kailua-Kona, where you'll find magnificent properties offering the luxurious lifestyle many can only dream of.

If you're lucky enough to live in an oceanfront home, you'll find owning a home where the ocean and land come together a place where you can engage every sense as you listen to the pounding waves, enjoy sunsets filled with magnificent color, breathe in refreshing breezes off the ocean, and even the salty taste of the air that surrounds.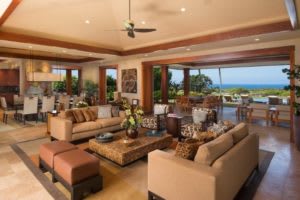 72-131 KUIKAWA PL KAILUA KONA, HI 96740
As , we know that for many who desire a certain lifestyle, money isn't a concern. In Kailua-Kona there have been about 30 oceanfront properties sold over the last five years, which averages out to about 6 properties per year. Prices for oceanfront homes vary widely from the hundreds of thousands to several million. Even homes that aren't located on the ocean offer fantastic views of the mountains, coastline, spectacular golf courses, and other features that make life so rewarding. It's hard to imagine the vast difference between this relaxed, laid back way of living when compared to the hustle, bustle, and stress of city life in many of the country's most populated cities.

At Mauna Kea Realty, we have many luxury homes available in Kailua-Kona, ranging in price from about $250,000 to $14,950,000 for the Hale Lani estate, a unique estate in the boasting magnificent views of the ocean, coastline, mountain, golf course, sunset, and more, in a single family residence surrounded by the , designed by Tom Weiskopf. With an outdoor shower garden, steam room and cold plunge pool; more than 5,700 sq. ft. of air conditioned space; five bedrooms; and a grand wrap-around lanai (just a few of the features and amenities you'll enjoy), this is truly what living in paradise is all about.

With several Kailua-Kona luxury properties to choose from, this is a rare opportunity for you to invest in the home of your dreams. From substantial acreage and glorious ocean views to spacious coffee farm living and the privacy you desire, nestled among the hills to the grandest, elegant estates you could imagine, it's all here!

At Mauna Kea Realty, our Big Island luxury home brokers are committed to helping make your dream come true. Because we are so familiar with Kailua-Kona and knowledgeable regarding the properties available, we can quickly match you with all of the properties that meet your particular criteria. Let us help you realize the experience of a lifetime!