As Big Island luxury real estate professionals, we naturally love to inform readers about the magnificent, upscale resort properties and neighborhoods on our beautiful island, but it's also important to share what's going on in terms of new businesses, restaurants, activities, events, and more. Those who love poke and Hawaiian food will be happy to learn that recently opened a new location in Hilo, co-owned by local celebrity and Lynelle Paranada, on Kalanianaole Ave. near the '76 station!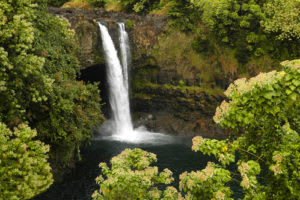 Currently, the new Fish & Poi Co. is open from 10 a.m. to 5:30 p.m. Thursday through Saturday, however the business plans to offer its menu up to area residents and tourists six days a week after remodeling. Whether for a snack or a ravenous appetite, patrons can order food to go or eat outdoors in a covered area. One of the dishes available, the "Kamehameha the Great Plate," is perfect for those who are starving – complete with pork laulau, kalua pig, choice of poi or rice, haupia, kulolo, lomilomi salmon, and choice of poke. In addition, Hawaiian plates include chicken or pork laulau, kalua turkey, and kalua pig all served with choice of side and poi or rice. Poke Plates include two sides, your choice of four types of seafood, and two scoops of rice.

If you're a little hungry but not up to a huge plate of food, Poke Bowls include furikake topped rice along with a side and your choice of one of two seafood options. Those who have already sampled the food claim the poke is delicious, fresh, and packed with briny flavor.

One point we need to make – Fish & Poi Co. is located near the airport and beaches, so if you're surfing, swimming, or just lounging on the beach enjoying the gorgeous surroundings, mouth-watering food isn't far away!

​​​​​​​The Big Island isn't only about an enhanced living experience but also great food, fun, entertainment, culture, active lifestyles, and so much more. Warm, tropical surroundings, magnificent landscapes, whether you enjoy ocean or sunset views or the rolling hills of the mountains, and so much more can be yours when you find the home of your dreams. At Mauna Kea Realty, our specialty is luxury real estate for those who prefer the finer things in life. If you're looking for a Big Island home, let us help you find the perfect home or piece of land to suit your needs and lifestyle!