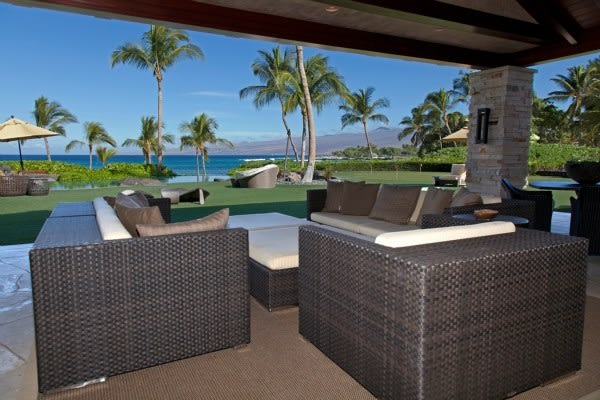 68-1029 PAUOA WY Kamuela, HI 96743
World-renowned, the Mauna Lani Resort is where those who dream of living a different kind of lifestyle will find the real estate of various types and price points, many properties catering to those who desire the ultimate in luxury. From The Estates and Mauna Lani Terrace to Palm Villas and Ka Milo, the neighborhoods offer some of the most reasonably priced homes and properties you'll find on the Kohala Coast. At Mauna Lani Resort, boredom is never an option!
What do we mean by that? Anyone who does not live in Hawaii likely pictures the Big Island and other Hawaiian islands as offering plenty of outdoor activities, considering the warm climate year-round, beautiful oceans, golfing opportunities, surfing, hiking the mountains, and more. Even aside from the outdoor activities, there's much to keep you busy including fine dining, shopping, spa and fitness clubs, and more. The resort offers enticing amenities including two 18-hole championship golf courses that are world-famous, romantic paths that stroll along with ancient Hawaiian fish ponds, historic petroglyph fields, more than you could possibly imagine.
Mauna Lani is where the culture of Hawaii is preserved and kept alive; the name itself means "mountain reaching heaven," and it's certainly where you can replenish your soul while you rejuvenate your body and simply relax in spectacular surroundings.
One of the neighborhoods, The Estates, is where you will find exquisite luxury homes priced in the $2 million to $4 million range, homes that range from contemporary to an artistically crafted Lucky Bennett designed home. The Ka Milo neighborhood is where you'll find moderately priced upscale homes ranging from approximately $800,000 to just over $2 million, spacious homes that let you surround yourself in tranquility, many with high-end furnishings and some providing ocean views or golf frontage.
Considering Mauna Lani Resort is one of the most luxurious,
eco-friendly
resorts in the world encompassing 3,200 acres and home to the finest
tennis courts
;
golfing opportunities
; property owner's beach club; spa and fitness club; and foot trails that take you through some of the Big Island's greatest history, it's no wonder so many people make it their home!