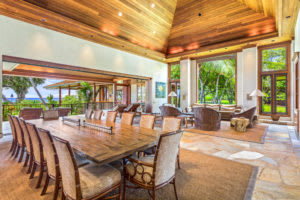 The kitchen (or dining room) has become the "heart" of the home, and that applies to most homes. Even here on Hawaii Island, where many of the homes are extravagant and afforded only by the most affluent, the dining area is important; it is a place to visit with family and friends, enjoy great food, relax, and unplug from a busy and stressful world. An extension of the kitchen, where everyone likes to gather and see (or even test) what the cook's preparing.
The dining space is one where you enjoy an intimate atmosphere and time to linger over food, conversation, and perhaps even a good wine.

Our Big Island luxury real estate professionals know that, while the dining space is critical to the enjoyment and atmosphere of a beautiful home or estate, the Hawaii life in general is one that combines the best of the indoors and outdoors. It's a lifestyle like no other in the world, and indoor spaces blend seamlessly with outdoor spaces, making them almost one and the same. This is an important factor to consider if you're looking to invest in a luxury property, as the views from the dining area or lanai can be stunning in the right location.

One magnificent home is a rare opportunity for the discriminating buyer – our "Heavenly Home," Hale Lani, at the Hualalai Resort in Kailua-Kona. With a grand wrap-around lanai that lends to the indoor-outdoor lifestyle and affords spectacular views of the coastline, ocean, mountain and golf course, this extraordinary home is one you must see for yourself.

We offer a wide array of luxury homes, estates, and condos that boast inviting dining spaces and unparalleled views of the spectacular beauty that surrounds, whether you prefer resort living at the Mauna Kea, Kukio, or Hualalai Resort, or you prefer a home in one of the most prestigious neighborhoods such as Kohala Ranch, Kohala by the Sea, Hamakua, or Waialea Bay. For the ultimate living experience, contact the Big Island luxury home brokers at Mauna Kea Realty today!