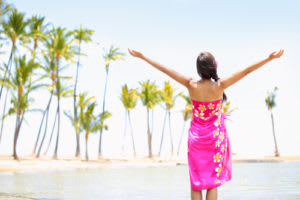 People dream of living in Hawaii – imagining the sights and sounds of the ocean, gorgeous sunrises and sunsets, and the general active lifestyle and outdoor experience. It doesn't have to be a dream, and if you've been considering a move to the Big Island, our luxury real estate agents think you'll love it – strike that, we KNOW you'll love it! Here are a few of the reasons why.
The ocean. Millions of people head to the beaches around the U.S. every year to enjoy their dream vacation. Why not live the dream? When you live on the Big Island, you can enjoy the positive effects and soothing sounds of the ocean every day of your life. Imagine living on the Kohala Coast or in Kona, where everywhere you go, you'll enjoy the gorgeous azure blue expanse of the ocean stretching as far as the eye can see. It's an amazing view you'll never get tired of. Of course, you'll also spend countless days laying on the beach or taking a dip in the calming warm waters!

Living outdoors. We don't mean literally, but people who live on the Big Island do spend far more time outdoors because of the gorgeous landscapes and warm temperatures year-round. That said, most of the luxury homes and estates on the island do incorporate the outdoors into their architecture. For instance, you'll find many homes offering expansive lanais you can step onto through sliding glass doors, offering spectacular views whether you're inside or out. From glass walls to tons of windows, most homes are designed to bring the outdoors in. While people in most other states are spending December indoors, you can enjoy lounging on the deck or lanai in your shorts and flip-flops.

An infectious spirit. Unlike most other places where people have road rage and you never look at a stranger, Hawaii is made up of people who are kind, welcoming, and who love bringing new people into the mix. You may be surprised at the locals who will give you a hug, and the fact that you make new friends so easily. The Aloha spirit is unique, just like the culture.

Imagine a relaxed, laid-back lifestyle, where you truly enjoy every minute of living life. People in Hawaii are known to be healthier because of the environment and fresh local foods on the menu, so there's very little negative you'll find about living in paradise!