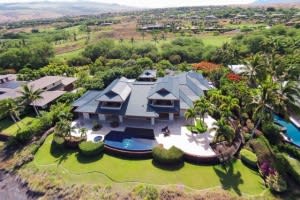 If you're not from Hawaii, we know it's easy to feel overwhelmed by the "Big Island" of Hawaii. The island of Hawaii is frequently referred to as The Big Island, a very appropriate name for an island that is almost twice the size of all of the other islands in the state combined.
Many people purchase luxury homes and real estate on the 'Big Island' for a number of reasons. You may want to live in the home yourself or use it for a vacation getaway or rental, or simply invest in a property you can sell for a profit in the future. Regardless of the reason, there is no shortage of opportunities on the island of Hawaii, from visiting sacred historical sites and golfing to relaxing on one of the island's many extravagant resorts. Of course, who could forget the beautiful beaches, jet-black sands and green rainforests of Punalu'u Beach?

is an absolutely astonishing mountain that provides the most stimulating and dramatic scenery anywhere in the world. With the summit providing the most dramatic sunset and stargazing for those who love exploring the night sky, what's not to like? Many people believe that Hawaii is a state with no snowfall or winter weather, however Maun Kea provides not only a spectacular view of the heavens, but ideal conditions for snow skiing during the winter months!

​​​​​​​When you purchase a luxury home on the Big Island of Hawaii, you not only get a beautiful, private home to relax in at the end of the day and enjoy, you get access to all Hawaii has to offer. There aren't many states in the U.S. that provide an enhanced living experience, but Hawaii is one of them! Why not live life to the fullest, enjoying a spacious, extravagant home of your dreams with all of the advantages and opportunities life has to offer? Contact Mauna Kea Realty today for information on the finest luxury homes you will find in Hawaii.