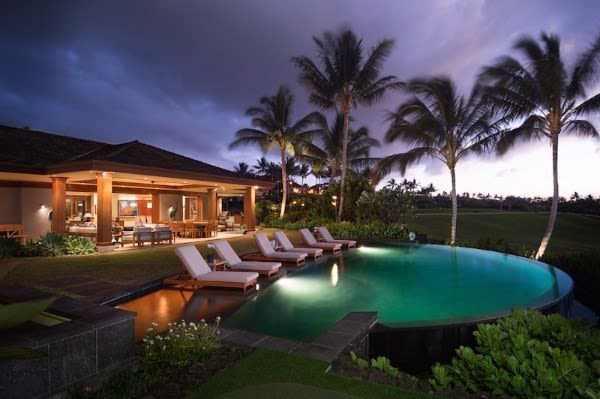 72-131 Kuikawa PL Kailua Kona, HI 96740
If you're considering investing in a Big Island luxury home on the Kohala Coast or other areas, you may be interested to learn what elevates a home to a 'luxury' status. A home that's especially large or priced high doesn't make it a luxury home, it's about the materials, amenities, features, design, and yes, location.
Essentially, luxury homes are typically located in communities or neighborhoods along with other luxury properties, as this helps in supporting all of the homes' values. Some of the amenities or features often found in these homes include premium cabinetry, 'smart' appliances, beautiful tiled or hardwood floors, hot tubs in spacious bathrooms, indoor and outdoor pools, immaculate landscaping, and more.
There is no one description of the word 'luxury' when it comes to upscale living. It's all in how people perceive the property, and everyone has their own opinion. Some desire a spectacular location (such as on the beach) with amazing views, others believe it's all about the quality of construction and integrity. Many say it isn't about a lot of 'flash' at all, but elegance.
What is your idea of luxury? Is it about quality over quantity, a unique setting that creates an emotional connection, elevated quality in design elements and finishes, or perhaps an architectural design that's thoughtful and deliberate? Ultimately, a true luxury home or property is often about the lifestyle, an enhanced and fulfilling way of living.
Many luxury communities offer golfing, tennis, spas, fitness opportunities, fine dining and shopping, easy access to the beach, and more. Because of this, it isn't just about the house itself – it's about the home and its surroundings. Luxury is an entire environment, not just the structure in which you live!
At Mauna Kea Realty we offer a wide range of luxury properties from resort living at Kukio and Kohanaiki to Puakea Bay Ranch, Kohala by the Sea, and other prestigious neighborhoods. For all of your Big Island real estate needs, count on Mauna Kea Realty.