You've likely heard people refer to Hawaii Island as "paradise," and there's a reason for that. While luxury abounds in many of the neighborhoods on the Big Island, there's simply nothing in the world quite like Big Island resorts, where you'll never even get a glimpse of mediocrity. Those who have visited Hawaii while vacationing likely remember lots of seafood, sprawling out on one of the beautiful beaches, indulging in more than a few fruity cocktails, and other things tourists do.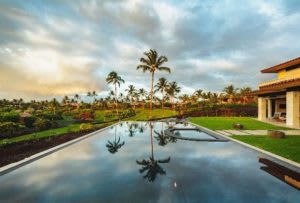 68-1075 PAUOA WY 19 Kamuela, HI 96743
Even if you've never been to the Big Island, this may be what you picture in your mind. The ironic thing is that the most coveted resorts including , , the and Resorts, and others, are nothing at all like this. Resort living is for those seeking exclusive access to the world's best golfing opportunities, breathtaking landscapes, fitness facilities, and communities restricted to those who desire a private wonderland in which they can relax, play, and enjoy the good life.

, and it truly is. Recently, .

How do the ultra wealthy travel back and forth to the mainland for leisure or business purposes? The Kona Shuttle, of course, which is a private U.S. air charter service where members enjoy first-class all the way on a Boeing 737-800 with flights to and from California's Oakland International Airport. They can also take advantage of the , near Kailua-Kona.

Yes, those who live in the spectacular Hawaii resorts do enjoy a lifestyle that's anything but average. With golfing, tennis, world-class spas, hiking and biking trails, and countless other amenities available for members' enjoyment and pleasure, the near perfect weather, beaches, and gorgeous blue waters are simply a bonus for those who can afford to live the good life.


To learn more about luxury real estate on the Big Island, including properties inside the island's prestigious resorts,
call Mauna Kea Realty today
.