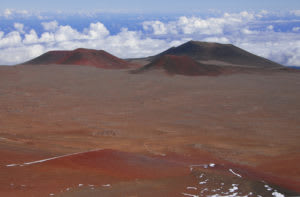 Our Big Island luxury real estate brokers know that for the most part, people desire to live in Hawaii for the warm temperatures year-round, the beaches, and of course a more relaxed way of life. That said, there are those who really do enjoy cooler or even cold temperatures – but not to worry, you'll find that on the island as well depending on the elevation of a home. Here's what you need to know if you're considering a luxury home or estate on Hawaii Island.
From sea level to heights of about 4,000 feet, elevations vary and temperatures, air flow and other things change the higher you go. Homes on the island are located on slopes created by volcanoes, so if you picture everything being warm, toasty and near the water, this is a misperception.

If comfort and fantastic views are what you're looking for, a home at mid-elevation (about 1,000 feet or so) is ideal, such as those found in Kailua-Kona. Air flow is great, so you enjoy "natural" cooling unlike those who live at sea level where the humidity level is higher and air flow reduced. This could result in higher electric bills considering you'll likely have to run fans (or even air conditioning) more often. While the homes at mid-level often come at a bit higher price, it's worth it to many who prefer not to live at sea level where the salty ocean spray that feels so good on your face isn't so good for your vehicle, home and other property.

Which is the best area if you prefer cold mornings and love snuggling under the blankets or comforter? Neighborhoods with an elevation higher than 1,000 feet are where you'll find that little chill in the air that's refreshing and invigorating for some. Consider the Kohala Mountain Ranch, Waimea or Waikoloa Village if you like frosty mornings and pulling on a sweatshirt for the early part of the day.

If you really like it cold, say in the 50's in the early morning hours, you may even prefer to live in higher elevations – but be warned, this high altitude can leave you facing mold or mildew problems as the humidity at higher elevations presents itself in the form of fog and mist. A dehumidifier is likely a must-have item if you choose to live way up high!

From the warm, humid weather at sea level to comfortable temperatures and amazing views at mid-level and colder temperatures the farther up you go, every type of weather exists in Hawaii whether you like it hot or cold!

At Mauna Kea Realty we try our best to inform those in search of a home about the various temperatures, airflow, humidity levels and other factors in different regions of the island. If you're considering a home or property in Hualalai, the Kohala Ranch, Waimea or any neighborhood or resort, give our Big Island real estate professionals a call today!