Perhaps you want to update your Big Island home for your own enjoyment, or are considering putting it on the market in the near future. Regardless, there are several upgrades you'll find useful and cost-efficient whether you live in Waimea, North Kohala, or in the Hualalai or Waikoloa Resorts. The good news is that either way, these renovations will add significant value to your luxury property.

​​​​​​​Spruce up your lanai. Everyone who lives in Hawaii enjoys the outdoors, no surprise considering the climate and tropical surroundings.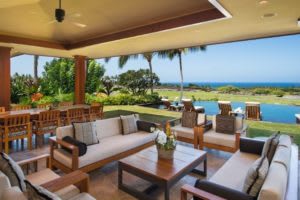 72-131 KUIKAWA PLKailua Kona, HI 96740
Your backyard is an extension of your indoor living spaces, a place to relax and unwind or entertain guests. How to upgrade it? Transform it into an outdoor kitchen complete with furnishings, grill, fire pit and sink.

Make your home "smart." From thermostats and garage door openers to security systems and intercoms that make it possible for you to see who's at the door before you answer it, home automation technology is all the rage today and makes homeowners feel more secure in their homes.

Is your flooring worn or becoming outdated? Floors are a huge factor in how people see your home when shopping for Big Island luxury real estate. Picturesque tile and reclaimed hardwood floors are extremely popular, and because it is the foundation on which all of your furnishings and decor are displayed, the floors contribute to atmosphere and set the tone for your entire house.

How about a wine cellar? Today, wine cellars aren't necessarily in the basement or at a lower level; in fact, they're often a showpiece, the center of attraction on the main level of a home. You deserve to relax and enjoy a good wine with friends – but why not make it the focal point by placing your finest under LED lighting surrounded by glass walls? If you really don't want to invest thousands of dollars, you can create a unique wine enclave by carving out a small space complete with wine fridge and decorative wine racks. Keep a few wine glasses on hand regardless of how big or small you go so you'll be ready to entertain at a moment's notice.

Other upgrades that increase the value of your property include an in-law suite and above-ground hot tub, particularly if your luxury home isn't situated in a way that gives you a grand view of the ocean or doesn't have a pool. Any or all of the above suggestions can greatly enhance your own enjoyment of your home, while adding substantially to its appeal and value should you decide to sell!

At Mauna Kea Realty we specialize in luxury properties on the Big Island, whether you're looking to buy or sell. Put yourself in capable hands, and rest assured of the most streamlined experience possible.