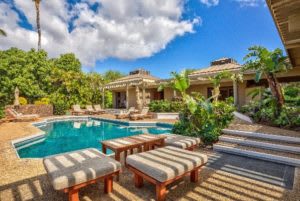 Hawaii Island is home to some of the most exquisite luxury properties on earth, one reason so many people choose Big Island luxury living. Spanning more than 4,000 square miles, the island also offers many natural wonders, countless outdoor activities, culture, and so much more to enrich your life.

Some of the natural wonders on Hawaii Island include the most massive mountain in the world, , and , one of the most active volcanoes in the world.
The Kilauea Volcano has been erupting continuously for 33 years, and is known as the "centerpiece" of .

While there's no shortage of spectacular mountains, amazing volcanoes, and beautiful beaches, you'll also find plenty of fun things to do when living the good life. Outdoor lovers are afforded countless opportunities to golf, fish, kayak, hike, even go horseback riding. Of course if you love the water you'll want to surf, go manta ray diving, or take a whale watching tour!

Attend the farmer's markets and festivals, enjoy live music, take a cruise, visit the museums and art galleries, or go scuba diving or snorkeling if you're an enthusiast. There are also many incredible waterfalls to enjoy across the island, including the 442-foot .

The Big Island offers some of the most spectacular golfing opportunities in the world, many located along the Kohala Coast and at the . In fact, the on the Kohala Coast was designed by Jack Nicklaus! At the Mauna Kea Resort, you'll enjoy golfing on one of the Robert Trent Jones. Sr. designed courses.