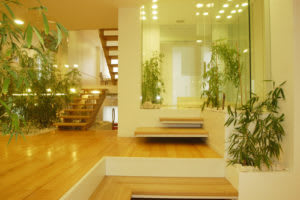 Lots of high-end luxury homes on Hawaii Island boast beautiful bamboo or hardwood floors. What's more beautiful than wood offering a deep, rich shine? Many homeowners are concerned about how to care for their floors so they look as beautiful and elegant years later as they did the day they moved in. Our Big Island luxury home professionals have a few tips to help you keep those spectacular floors clean and glowing.
Sweeping regularly is important to prevent dust and dirt from scratching your bamboo or hardwood floors, but you want to use a soft pad or cloth rather than a straw broom so that dust is picked up and not simply pushed from one area to another.

When it comes to mopping, a slightly damp mop is all you need. Make sure the mop is wrung-out well so that no water is left to puddle on the floor, as standing water or large amounts of moisture are not good for bamboo or wood flooring.

How often should you clean bamboo floors? While you'll want to run a cloth such as a Swiffer or something similar across the floor every day or two to pick up dust, thorough sweeping and mopping only needs to be done about once each week to keep floors clean and shining.

Encourage those who come into your home to remove their shoes, as they can grind in dust or dirt that eventually leads to minor and very minute scratching. You may also want to place rugs in high traffic areas to protect the finish and beauty of your bamboo floors.

Are there any products that should not be used on this type of flooring? While most quality solutions designed for use on hardwood floors can be used on bamboo, avoid wax and non-alkaline cleaners which can damage the finish. Also be sure to quickly get up any liquid spills or water, as any kind of moisture left to make its way into the seams could result in damage such as buckling or bubbling around the edges.

Bamboo and hardwood floors are some of the easiest to care for, and require little maintenance. Many luxury properties on the Big Island include bamboo or other hardwood floors because of their intense beauty and durability.

In search of a luxury home in Kamuela, , or or Resort? Trust the professionals at Mauna Kea Realty to help find your ideal paradise!