Even with luxury homes or estates, the busiest time of year in terms of buying and selling is typically during spring and summer. Now that it's November, should you consider searching for that second home or investment property? Absolutely! Fall and winter home shopping is a good idea, and offers many advantages – and, given the weather is mild in Hawaii year-round, freezing cold temperatures or snow isn't usually a problem.

​​​​​​​In searching for a beautiful home anywhere on the Big Island, you won't face as much competition among buyers during fall and winter.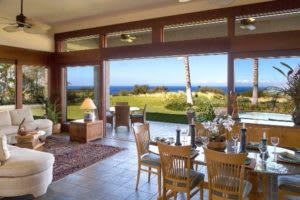 62-3998 MOANI PIKAKE PL
Kamuela, HI 96743
Even in Hawaii, where the weather is nearly perfect year-round, buyers generally choose to search during spring and summer. Less competition often means lower prices!

​​​​​​​​​​​​​​e aware there may be fewer properties for sale. Many sellers list their homes during the peak selling season rather than off months – but don't let this deter you. For those sellers who do list a Big Island luxury property during the off season, they're highly motivated to sell. This is usually due to the low number of buyers actually searching for homes, and sellers may be more open to negotiating on the sale price, closing costs, etc. Prices are generally lower to begin with during the off season, as sellers are eager to sell and know there are fewer buyers.

Tt's doubtful you'll become involved in a bidding war. During the peak or "hot" season, you'll often find that several buyers are making their offers on the same property – and of course, the more offers, the higher the price. By shopping for your dream home now, you won't likely find yourself up against multiple offers from other buyers.

It's a great time for a home inspection. Having a home inspection performed when the weather's not so great (for instance, lots of rain during fall/winter) is a good idea, as you can really see if there are any potential problems such as leaks, water ponding around the home or on the landscape, etc.
As you can see, there are lots of advantages to buying a home during the 'off' season. At Mauna Kea Realty, we have a wide array of luxury homes, estates, and properties in Kamuela, Hamakua, Hawi, and Kukio, Kohanaiki, Mauna Kea, and other resort communities. Give our Big Island luxury real estate professionals a call today!