Although there are plenty of celebrities, sports figures, and tech gurus with luxurious estates and homes in Hawaii and on the Big Island, there are also plenty of others of financial means who make our exquisite island their home or "second home" when it's time to escape from the noise and pollution of everyday life. If you're considering an upscale property on the Big Island, you'll be happy to know that, while a luxurious home or condo may set you back more than a few bucks, there are plenty of other areas where you can save a bundle, when compared to other states in the U.S.!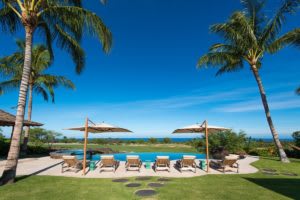 72-409 KAUPULEHU DR Kailua Kona, HI 96740
Taxes are never a fun subject, but you'll find when you live in Hawaii, some taxes are substantially lower than in other states. For instance, on owner-occupied housing, the effective tax rate is only 0.28%. Property taxes are substantially lower than in other states in the U.S. According to Zillow, the average price of a home in Hawaii is currently about $613,500. Property taxes on a home priced at this amount would be about $700 higher in most other U.S. states, while residents of Hawaii would pay on average $1,400. Essentially, only two-thirds of what the U.S. average is!

While the cost of living in Hawaii may be high, it's important to factor in all of the things residents DON'T spend money on that those in many other states do. For example, winter months necessitate winter clothing in many states (coats, hats, boots, sweaters, etc.), along with snow tires, paying someone to shovel the snow out of the driveway, and often, enormous heating bills.

While you can spend money for entertainment on the Big Island, it certainly isn't necessary, given all you can do in our beautiful, warm climate that continues year-round. Enjoy a morning sunrise on the beach, hike the trails and mountains, grab your surfboard, or just sit on your lanai and listen to the waves pound the shore. Snorkeling, fishing, kayaking, taking a jog along the gorgeous coastline – none of this costs you a dime!

When it comes to food, many who live here choose to eat fresh fruit and produce sourced locally and available at farmers' markets. You'll find an abundance of delicious and good-for-you options you can often enjoy for free, if you're lucky enough to have fruit trees on your property. Some of these include papayas, tangerines, mangos, avocados, lychees and apple bananas. Enjoy a sunset picnic, or revel in the beauty of one of the many waterfalls.

Honestly, most affluent buyers of luxury properties on the Big Island don't really worry too much about spending, but it's nice to know so many things are free or low-cost on the island! If you're searching for a luxury home in Kailua-Kona or an upscale condo in Kohanaiki, our Big Island luxury home professionals can help you find your own private paradise!